School Based Health Centers
SCHOOL-BASED HEALTH CENTER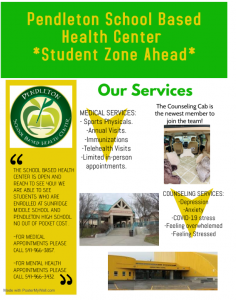 The SBHC is open and ready to see you!  They are able to see students who are enrolled at Sunridge Middle School and Pendleton High School.
For medical appointments, please call 541.966.3857
For mental health appointments, please call 541.966.3432
Hours: Monday – Friday  7:45 am – 3:30 pm *Appointments Only
Phone: 541-966-3857
Email: sbhc@umatillacounty.net
Webpage: www.umatillacounty.net/health/SBHC/
Staffing: During comprehensive distance learning, the Pendleton High School site will be staffed with the Nurse Practitioner only. Services at the location will be based on appointments scheduled in advance and may also occur through telehealth. The Mental Health Therapists are located at the Sunridge Middle School location and can be contacted at 541-966-3432.
Umatilla County Health Department will bill your insurance, but there are no out of pocket expenses charged for services provided at the SBHC.